Real Wedding DJs
& Well Spoken MC's
To Pack Your Dance Floor
& Make Sure Your Night is Unforgettable.
An Unforgettable Experience
Our Wedding DJs. Your Perfect Wedding. Let's Mix!
Did you know that we both want the same thing? Every single person up and out of their seats, dancing and celebrating the entire night. We can't wait to pack your dance floor! One of the best parts of our job is using our skills as DJs to bring everyone together through the power of music. Being a Wedding DJ isn't just about having the music. It's about knowing what to play, how to play it, and when to play it. It's about creating a vibe and atmosphere where people can't wait to dance, and once they start, they never want to stop. Our award winning team of wedding DJs know exactly how to rock your wedding – making sure all of your guests have an amazing night out celebrating with you.
Featured for Award-Winning Weddings
Elegant, classy & Energetic
Master of Ceremonies
In addition to facilitating a packed dance floor we're also your (MC) Masters of Ceremonies. We are articulate, well spoken, and very refined on the microphone. We will never do or say anything to embarrass you or your guests. We don't do games, we don't do gimmicks, and we would never ever think about doing anything corny. Every couple deserves a classy and elegant wedding day and we can't wait to help you get it.
Online Wedding
Planning Tools
Once you secure your date with us, you will have immediate access to our online wedding planner and music selection database. Simply log in to our client area using your username and password and you will have instant access from any computer or tablet that's connected to the internet. You can easily edit your wedding day details, change your music request list, tell us about your lighting preferences, and define your do not play list! Work at your own pace and update anytime you feel like working on the details of your wedding day. These easy and powerful tools were custom designed by us to help make planning easy. Of course if you ever have questions, just give your DJ a call, text, or email and they will be right there to help.
We're Much More Than Just
Your Wedding DJ
On your wedding day we don't just "hit play".  Once the big day is finally here, we will make sure everything runs smoothly so you don't have to worry. Beginning with organizing the wedding party for the grand entrance, continuing right up to your last dance, and ending by giving you a huge hug at the end of the night.
It's also our job to orchestrate the special moments and make sure your guests know what's happening.  Not only that, but we always make sure the important people (Family, Photographer, Videographer) are also there and ready too. It might seem like a small detail, but it makes a huge impact. Taking care of all the small details is just another reason that our couples love working with us!
A Few Things Our Wedding DJs
Want You To Know
Leading up to the wedding, you have direct phone, text, and email access to your DJ. We are there every step of the way.

We dress to blend in with your guests. If the gentlemen are in a suit and tie, we will be too.

We can provide music and microphones for your ceremony, cocktail hour, and dinner dancing reception.

Our online tools let you customize your playlist with songs you love, and songs you don't want. We work with you to make sure the party reflects what you want.

We have a massive music library that covers decades and genres dating back to the 1950's and up to the top hits that come out the week of your wedding.

We come prepared. A back-up sound system, back-up microphones, back-up laptops, and our emergency bridal kit are always on-site.

If it's okay with you, we love chatting with your guests and taking their requests (of course we only play the good ones!).

We never embarrass you or your guests. We don't tell jokes. We don's yell on the mic every 10 seconds. And we never play line dances unless you tell us to.
We Are
Wedding Specialists
Our DJs have a lengthy entertainment history. No matter what your background, nationality, religion, sexual orientation, or family dynamic is – we are experts in weddings for virtually anyone. We are also strong supporters of the marriage equality initiative.
Spectacular
Custom Lighting
Lighting makes a huge impact on an event space.  The venue is already beautiful – why get lighting?  Consider this:  Museums have the most amazing works of art in the world, and they use lighting to accent every exhibit to highlight the beauty even more.  Your venue deserves the same.  We create a lighting experience to match your wedding style and the pictures will be stunning!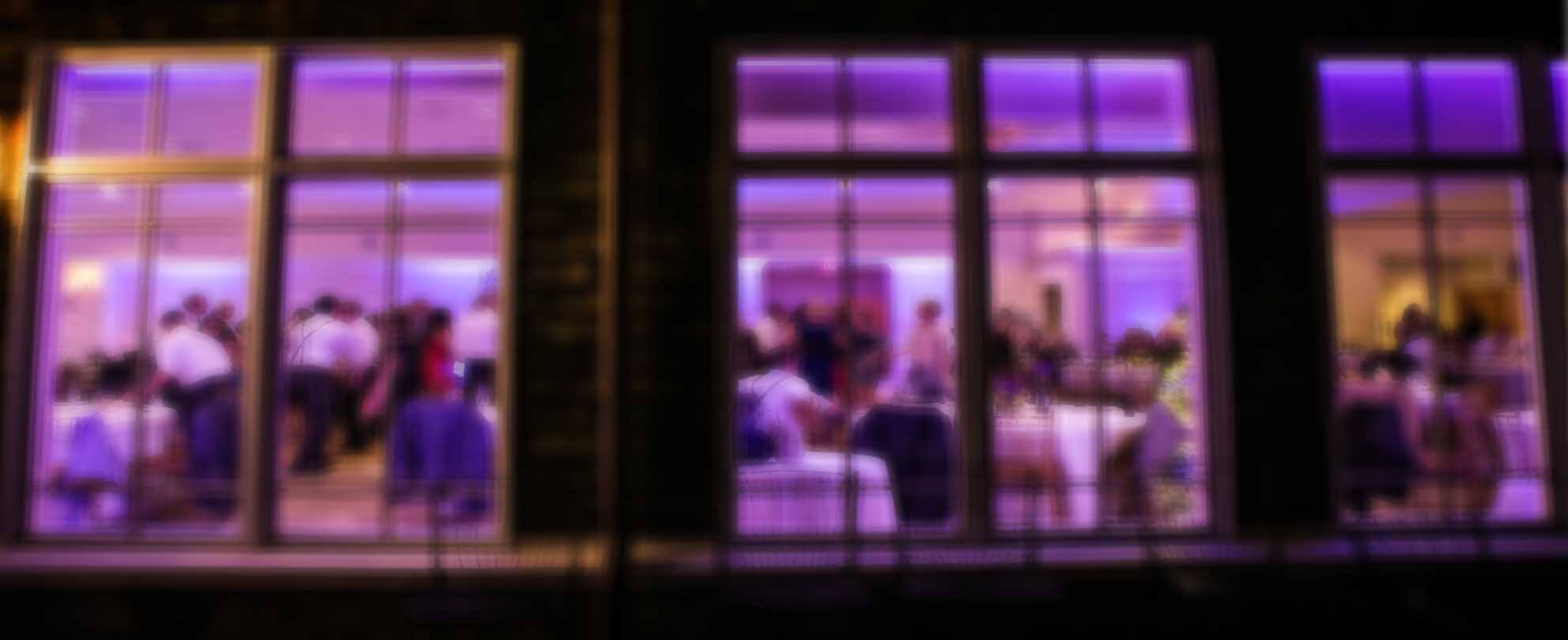 Are Our DJs Available
On Your Date?
Choose your event date to get an instant reply
with more information about our services.
January
February
March
April
May
June
July
August
September
October
November
December

1
2
3
4
5
6
7
8
9
10
11
12
13
14
15
16
17
18
19
20
21
22
23
24
25
26
27
28
29
30
31

2022
2023
2024
2025
2026
2027
2028
2029
2030
2031
2032
2033
2034
2035
2036
2037
2038
2039
2040
2041