Boston Wedding DJs
Frequently Asked Questions
You've Got Questions?
We've Got Answers!
How far in advance should a couple book their DJ?
Planning a wedding is all about having a system complete with checklists of items that you need to do before your big day. The most popular venues, photographers, and DJs will all book up faster than some of the less popular companies and options. We always refer to these as "the big three". Once you book these three wedding vendors, the rest can more easily fall into place as time goes on. A popular, reputable DJ company will book between 12 and 18 months in advance, but it's not uncommon for the months of May/June/September/October to start booking 24 months in advance. This is all assuming that the engagement period is long enough to support these timelines. Every year we see couples that are only doing a 12 month (and sometimes less) engagement, and those last minute weddings will always happen too. After all, if two people are so in love that they don't want to wait – why not go for it!
What type of insurance should couples check to make sure their DJs have?
There is no mandate that says DJs have to be insured, but most wedding venues will require that any vendor working onsite has the proper liability insurance just in case something were to happen. Speaking for most of the DJs in the Boston market, it's very common to see companies have at least a one million dollar liability policy. Liability insurance is to protect all three parties involved, the venue, the client, and the DJ.
How far in advance of the event should the DJ arrive at the event?
Our personal philosophy is that we never like to rush! We always give extra time, not just to set up, but also for travel time to get to the wedding venue. The amount of time a DJ needs to set up is directly related to three things. First, how professional their set up is: The more professional the equipment the shorter the set up time. Second, how much equipment is being used for that specific event. Third, how challenging the load-in might be with regard to things like elevators, stairs, loading docks, parking, etc. For example, did the client only hire them to DJ? Do they have to set up a second sound system for a remote location or ceremony site? Did the client contract any lighting design for the event? Is there a photo booth or any multimedia add ons? In reality each DJ knows how long it takes to set up for the event at hand. One to two hours in advance is the most common time frame a DJ would arrive before the first guests arrive. That way there is plenty of time to set up, change into professional attire, and review all of our notes one last time before the celebration kicks off!
Are there any setup or breakdown fees that the couple is required to pay?
Companies in our category know what it takes to get the job done. It's our opinion that there should never be any fees for setting up or breaking down. The only fees that are customary to have added (and they would be made clear prior to any commitments being made) are things like travel fees. For instance, there are some venues in Maine that require you to take a vehicle transport ferry to a small island off the coast. The costs of getting to the venue in a situation like this would be added into the event cost in these rare scenarios.
Can couples typically request specific songs they'd like the DJ to play?
Of course! We encourage our couples to use our online music database to let us know a bit about their taste in music and their musical desires for their wedding day. The online tool allows couples to search through our music library and make their list from categories of: 'Songs they have to hear', 'songs they would like to hear if there is time', and the very popular, 'under no circumstances is this song to be played at my wedding'! We try to encourage our couples to select 10-15 songs in each category. A reputable DJ will always want input from their clients to help make the wedding special to them!
Do DJs usually play requests made by the guests? How is this typically done?
Some DJs take requests, and some don't. We actually leave this one up to our clients. We'll talk to our couples and ask them what they want us to do. Some say they want us to take requests and some say they don't. Even if they tell us to take requests, we are always very careful never to play something similar to a song that might have been listed on the do not play list. Also, we use our judgment when it comes to requests. If it's a great song, sure, we will play it. If it's a song we know will clear the dance floor, we'll stay away from it. The DJs goal is the same as the couple that hired them. DJs want the dance floor filled with people as much as possible!
What are some extra services that a couple can add on to their wedding packages?
DJs are now offering some pretty great add-ons. For instance, we offer Ceremony sound systems and microphones for the officiants, multiple options for dance floor lighting to create some energy focused on the dancing space, jaw-dropping up lighting design both inside and outside of the venue, and of course photo stations!
How can a couple see a DJ "in action" at an event, before deciding to hire them?
We don't know about you, but we wouldn't be too excited if a DJ who was hired to focus on a couple's wedding day invited some other potential customer to come see them perform. Weddings are an elegant, classy, and extremely personal day for the couple and their families. A reputable DJ would never allow a potential client to look in. Instead you will have to rely on online reviews, word of mouth and/or vendor recommendations, online videos & photos, and most importantly, old fashioned meetings in person. Go with your gut. Sit and chat with a DJ you are interested in and find out about their company and philosophy. Make sure they spend a lot of time asking about you and your wedding and not just about themselves. Make sure you are talking to the ACTUAL DJ that will be celebrating with you that day. Take the time to get to know them, to ensure they're a good fit.
What if the DJ's equipment breaks during the wedding?
Any DJ that specializes in weddings will also specialize in the unknown. None of us ever want to be in a situation when something goes wrong and there is no solution. Our DJs come with two complete sets of equipment and multiple laptops (wait no more cds?!) just in case something were to happen. Some DJ companies go above and beyond when it comes to emergency preparedness, and some just skim the surface. Don't be afraid to ask the DJ how they prepare for emergencies.
How does it work with booking fees & final payment?
With all the fancy add-ons DJ companies offer their clients, your total package price might be $1700 or it might be $5500. Most companies like TSG will require a 20-30% non-refundalbe booking to secure the date and services. We would be wary of any company that asks for 100% payment up front, or offers you some "back-door" discount if you pay in full months or years in advance.
If the event needs to be cancelled or re-scheduled what happens?
In the unfortunate circumstance of needing to cancel or reschedule, there really is no perfect time. You want to alert your contracted vendors as soon as possible so that they (and you) can take the appropriate steps based on the terms of the agreement you both signed at the beginning of your working relationship. Most companies are fine with moving the date (assuming the new date is still available) but cancellations are a bit trickier. Usually company policies change based on how close the wedding date is to the date of cancellation.
What should a couple pay attention to when interviewing DJs for their big day?
First and foremost, your DJ should be someone you "click" with. Someone that you trust will do a great job on your wedding day, and someone that will be great communicating when leading up to the event. If you are already at the interview stages, that means everything leading up to this meeting looked good to you. You most likely have already checked out their web site, Facebook page, online videos, and wedding network review websites. Now it's time for you to fine tune the questions you ask, and listen carefully to the things they say. One important thing to be aware of is if the DJ takes the time to get to know YOU. As DJs, part of our job is to get to know the couple we are working with so that we can make the wedding special and unique to them.
Is it extra money for the DJ to also act as the MC/Master of Ceremonies?
No. All of our wedding DJ's are experienced MC's, and work with an assistant. The DJ you hire is comfortable and qualified to communicate with you, your guests, and work with other vendors in a professional manner, throughout the entire event. The assistant with them aids with setup and breakdown, and allows the DJ to ability to move about the event and not be "stuck in the booth". We find that frequent communication and coordination with function managers and other vendors like photographers and videographers ensures a smoothly running, on time event!
How does a couple let the DJ/MC know what needs to be said at their wedding?
We'll take as much guidance as you want to give us. If there's something you'd like us to say, just let us know. We're even happy to help in areas where you might not know what needs to be done or said. When we receive little or no guidance, we generally work with the "less is more" mindset using simple, concise, professional announcements, that don't annoy guests, or detract from the event. We're always about less talking and more dancing!
How does a couple know if lighting options are right for them?
Ask, and research. Being informed is never a bad thing. Ask your DJ, your venue, even your photographer/videographer what they think lighting might bring to the space. Some places can really benefit from the addition of lights, while others don't need them, or there's not much of an added benefit. Lighting can definitely add a "WOW-Factor" to an event, but it's certainly not required to have a great wedding either.
Our officient can yell really loud. Do we need microphones for the ceremony?
No one should be yelling at the ceremony until the cheering at the very end. If your officiant has a voice that can carry, and can be heard while speaking at normal level, than maybe microphones aren't needed, but there are a few other factors worth considering… Is the ceremony outdoors? What about wind or other nearby sounds? Are there any readings? What about vows? Our ceremony systems are small/discrete, and can come with a variety of choices when it comes to microphones. Wireless handhelds, microphones on stands, and even clip-ons are all included in the ceremony package. Just let us know what you need!
What makes you different from your competitors?
One thing that sets our Boston DJs apart from our competition is that we'd rather hear about you, than tell you about us. Most companies are quick to explain what they will do at your wedding. For example, how they will introduce your wedding party, how they will help arrange the timing, and why they are the best choice for your reception. Our question is, how can our Boston wedding DJs do those things well unless they have taken the time to learn about you and to understand what YOU envision as your dream wedding?
Can we select the DJ for our wedding?
When you first contact TSG Weddings, our wedding experts will take the time to go over all of the details for your dream wedding reception. Once we have all of the details, we will then let you know the availability of our wedding DJ's and advise you on who we think would be the best fit for your event based on your personality and preferences. You will have the option of interviewing our Boston DJs to find one that you will feel comfortable with. That DJs name will also be specified on your contract.
Do you provide a written agreement?
Absolutely! A written legal TSG Weddings contract secures the DJ's obligation to the client and lists exactly what is required and expected for the event's success. It will explain the entertainment setup requirements and other factors related to the company's performance. This document will also clearly state the fee structure for payment of the services provided, the name of the entertainer, and any additional services being provided by the company. All reputable wedding DJs should use an agreement.
What type of music does TSG Weddings have in their collection?
Our music library is massive and spans across just about every decade, genre, and nationality. Through weekly updates we are able to provide the most up-to-date songs that you and your guests want to hear to make your wedding reception great. (If by rare chance we don't already have a song you are looking for, we promise to go out and buy it!)
What if one of my family members or friends wants to make a toast?
We are happy to let as many people speak, give toasts, or tell funny stories as you would like. However, in order to save you and your future spouse from any unwanted embarrassment, we ask that you let us know ahead of time who will be speaking. We realize that your wedding reception is a fantastic celebration for everyone in attendance, and we also realize that people like to celebrate with a few glasses of wine or an occasional cocktail. Therefore, if someone comes over and asks to speak on the microphone, and they are not on our list of speakers pre-approved by you, we will check with either the bride or groom for the thumbs up or thumbs down.
What does TSG Weddings require for set-up at my ceremony or reception site?
Believe it or not, our Wedding DJs needs are pretty basic. We simply need a single 6-foot or 8-foot table with linens that match the rest of the room's décor. Our power requirements are: (one) 20 amp outlet for Sound only; (two) 20 amp outlets for Sound and Multimedia Equipment/ Intelligent Dance floor Lighting.
When is our entertainment balance due, and should we tip our DJ?
Your entertainment balance is due and must be received no later than 10 business days (14 days including the weekend) prior to your event, and can be in the form of personal or certified check, money order, or cash. Unfortunately, we do not accept credit cards for the payment of balances. Tipping TSG Weddings entertainment staff is never necessary, but is always appreciated if you feel that they exceeded your expectations.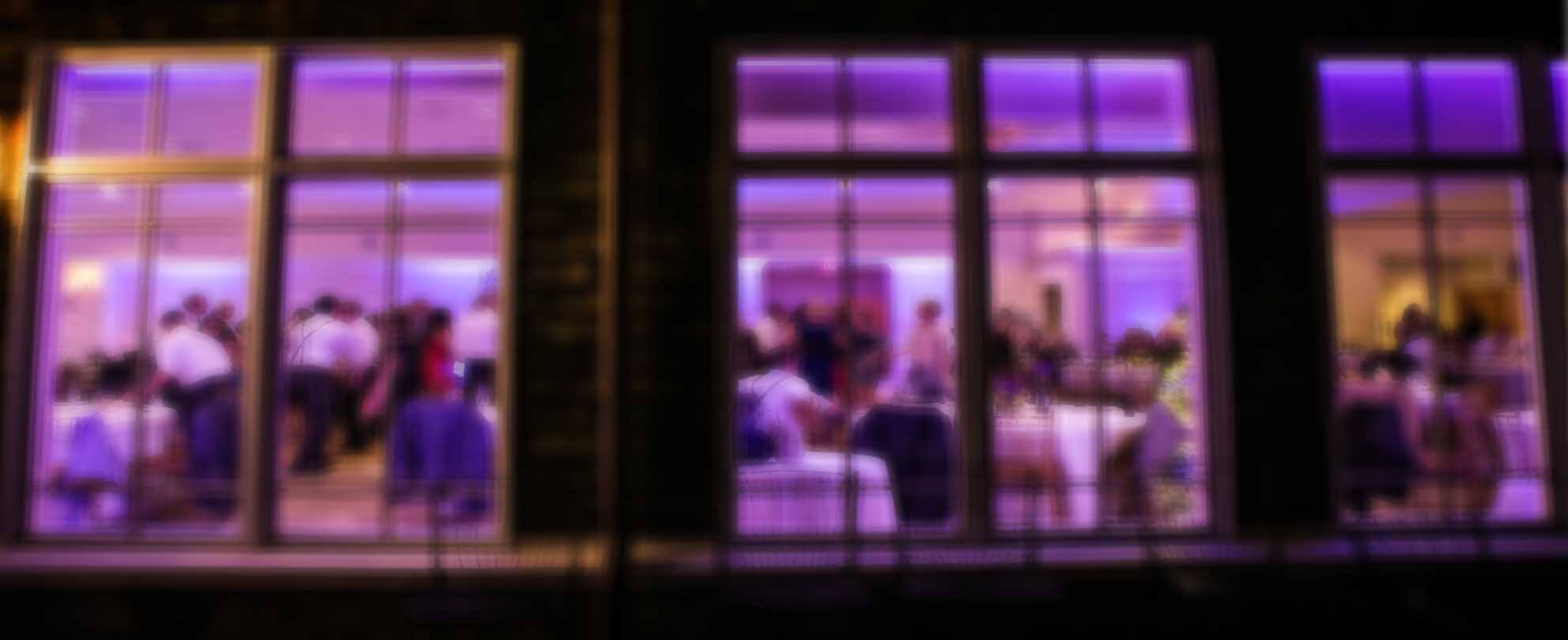 Are Our DJs Available
On Your Date?
Choose your event date to get an instant reply
with more information about our services.
January
February
March
April
May
June
July
August
September
October
November
December

1
2
3
4
5
6
7
8
9
10
11
12
13
14
15
16
17
18
19
20
21
22
23
24
25
26
27
28
29
30

2023
2024
2025
2026
2027
2028
2029
2030
2031
2032
2033
2034
2035
2036
2037
2038
2039
2040
2041
2042